Buy Motrin (Ibuprofen)
Motrin (Ibuprofen)
Motrin is FDA-approved for adults and children who are at least 6 months old. Motrin is used to reduce fever and treat pain or inflammation caused by many conditions such as headache, toothache, back pain, arthritis, menstrual cramps, or minor injury.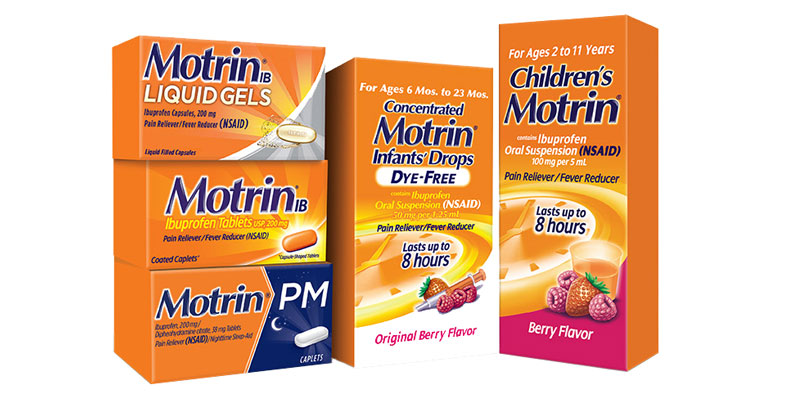 Motrin General Product Information
When pain gets in your way, you simply don't have time to entertain it. At times like these, you may wish to turn to an over-the-counter pain reliever to alleviate your symptoms and get you back to business. Motrin is classified as an NSAID, a non-steroidal anti-inflammatory drug, and contains ibuprofen. Ibuprofen is used to relieve pain and reduce fever. Adult Motrin IB products contain 200 milligrams of ibuprofen and are available as tablets or Liquid Gels (liquid-filled capsules). Children's and Infants' Motrin products are also available. The ibuprofen in Motrin works to relieves minor aches and pains. It disrupts the production of prostaglandins, which are substances produced in response to injury that contribute to pain and inflammation. Motrin can temporarily reduce fever and relieve minor aches and pains caused by:
headache
minor pain of arthritis
the common cold
muscular aches
backache
toothache
menstrual cramps
If you are taking Motrin "as needed" (not on a regular schedule), remember that pain medications work best if they are used as the first signs of pain occur. If you wait until the pain has worsened, the medication may not work as well. If your condition persists or worsens, or if you think you may have a serious medical problem, get medical help right away. If you are using the nonprescription product to treat yourself or a child for fever or pain, consult the doctor right away if fever worsens or lasts more than 3 days, or if pain worsens or lasts more than 10 days.
When Motrin is used by children, the dose is based on the child's weight. Read the package directions to find the proper dose for your child's weight. Consult the pharmacist or doctor if you have questions or if you need help choosing a nonprescription product. For certain conditions (such as arthritis), it may take up to two weeks of taking this drug regularly until you get the full benefit.
Motrin Direction For Use
Do not take more than directed. The smallest effective dose should be used. Adults and children 12 years and over: take 1 tablet every 4 to 6 hours while symptoms persist. If pain or fever does not respond to 1 tablet, 2 tablets may be used. Do not exceed 6 tablets in 24 hours, unless directed by a doctor.
If you are taking the over-the-counter product, read all directions on the product package before taking this medication. If your doctor has prescribed this medication, read the Medication Guide provided by your pharmacist before you start taking ibuprofen and each time you get a refill. If you have any questions, ask your doctor or pharmacist. Do not lie down for at least 10 minutes after taking this drug. If you have stomach upset while taking this medication, take it with food, milk, or an antacid.
Motrin Special Precautions
Motrin can increase your risk of fatal heart attack or stroke, especially if you use it long term or take high doses, or if you have heart disease. Do not use this medicine just before or after heart bypass surgery (coronary artery bypass graft, or CABG). Motrin may also cause stomach or intestinal bleeding, which can be fatal. These conditions can occur without warning while you are using ibuprofen, especially in older adults.

You should not use Motrin if you are allergic to ibuprofen, or if you have ever had an asthma attack or severe allergic reaction after taking aspirin or an NSAID. Ask a doctor or pharmacist if it is safe for you to take Motrin if you have:
heart disease, high blood pressure, high cholesterol, diabetes, or if you smoke;
a history of heart attack, stroke, or blood clot;
a history of stomach ulcers or bleeding;
asthma;
liver or kidney disease;
fluid retention; or
a connective tissue disease such as Marfan syndrome, Sjogren's syndrome, or lupus.
Taking Motrin during the last 3 months of pregnancy may harm the unborn baby. Do not use ibuprofen without a doctor's advice if you are pregnant. It is not known whether ibuprofen passes into breast milk or if it could affect a nursing baby. Ask a doctor before using this medicine if you are breastfeeding. Do not give Motrin to a child younger than 2 years old without the advice of a doctor.
Motrin Forms and Doses
Motrin Forms: oral suspension, oral tablet, chewable tablet, oral capsule, compounding powder, intravenous solution.
The dosage is based on your medical condition and response to treatment. To reduce your risk of stomach bleeding and other side effects, take this medication at the lowest effective dose for the shortest possible time. Do not increase your dose or take this drug more often than directed by your doctor or the package label.
Rheumatoid arthritis and osteoarthritis, including flare-ups of chronic disease:
Suggested Dosage: 1200 mg-3200 mg daily (600 mg tid or qid).
Individual patients may show a better response to 3200 mg daily, as compared with 2400 mg, although in well-controlled clinical trials patients on 3200 mg did not show a better mean response in terms of efficacy. Therefore, when treating patients with 3200 mg/day, the physician should observe sufficient increased clinical benefits to offset potential increased risk.
The dose should be tailored to each patient, and may be lowered or raised depending on the severity of symptoms either at time of initiating drug therapy or as the patient responds or fails to respond.
In general, patients with rheumatoid arthritis seem to require higher doses of ibuprofen tablets than do patients with osteoarthritis.
The smallest dose of ibuprofen tablets that yields acceptable control should be employed. A linear blood level dose-response relationship exists with single doses up to 800 mg. The availability of four tablet strengths facilitates dosage adjustment.
In chronic conditions, a therapeutic response to therapy with ibuprofen tablets is sometimes seen in a few days to a week but most often is observed by two weeks. After a satisfactory response has been achieved, the patient's dose should be reviewed and adjusted as required.
Mild to moderate pain: 400 mg every 4 to 6 hours as necessary for relief of pain.
In controlled analgesic clinical trials, doses of ibuprofen tablets greater than 400 mg were no more effective than the 400 mg dose.
Dysmenorrhea: For the treatment of dysmenorrhea, beginning with the earliest onset of such pain, ibuprofen tablets should be given in a dose of 400 mg every 4 hours as necessary for the relief of pain.
Menstrual cramps: Ibuprofen (Motrin) is excellent drug for menstrual cramps. It is not only decrease the pain but also decrease contractions of the uterus. You do not need a prescription to get ibuprofen in 200 mg tablets. You can take 2 tablets Motrin 3 times a day. Take 3 tablets (600 mg) as the first dose. Start taking the drug as soon as there is any menstrual flow, or even the day before, if possible. Don't wait until your menstrual cramps begin. Ibuprofen should make you feel well enough not to miss anything important.
Buy Motrin Online
Motrin (Ibuprofen) is available over-the-counter (OTC) in the United States. However, prescription versions of ibuprofen cannot be dispensed by a pharmacy OTC. Additionally, for prescription ibuprofen, one cannot just buy ibuprofen online without first getting a valid prescription. People who want an ibuprofen prescription can use online pharmacy to connect with a medical provider who can prescribe generic version of Motrin (Ibuprofen or Advil) when appropriate to do so.
Motrin (Ibuprofen) is the most popular over-the-counter pain relief medication used in the U.S. and around the world. Today millions of American adults and children use the drug every week for common ailments such as headache, dental pain, menstrual cramps, muscle aches, or arthritis.
Many painkillers are available from pharmacies without a prescription. In order to use them safely, it is important to pay attention to the dose and interactions with other medicinal products. Before you buy Motrin, compare the lowest discounted acetaminophen prices at U.S. accredited international online pharmacies. Note that the products are sourced from many countries. Please note that the product appearance may vary from actual product received depending on availability.
Note:
Motrin and Advil are both brands of ibuprofen and are equally effective. There is no real difference. Motrin, Motrin IB and Advil are brand names for the drug ibuprofen. Ibuprofen belongs to a group of medicines called NSAIDs. Other brands of ibuprofen available in the U.S. include Midol and Proprinal.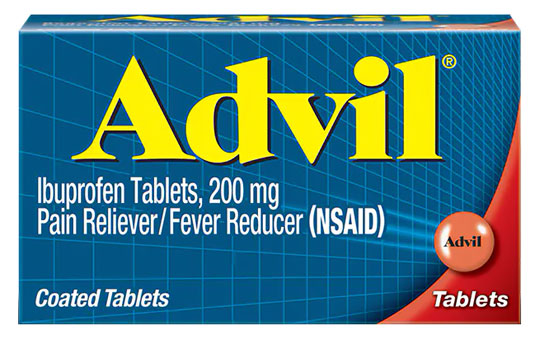 Advil tablets, contain Ibuprofen 200 mg.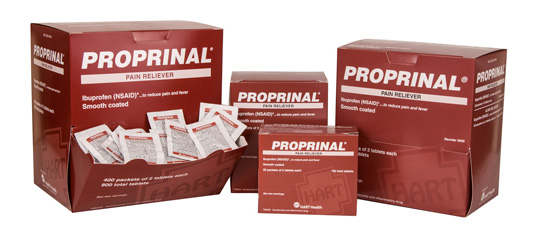 Proprinal softgel capsules, contain Ibuprofen 200 mg.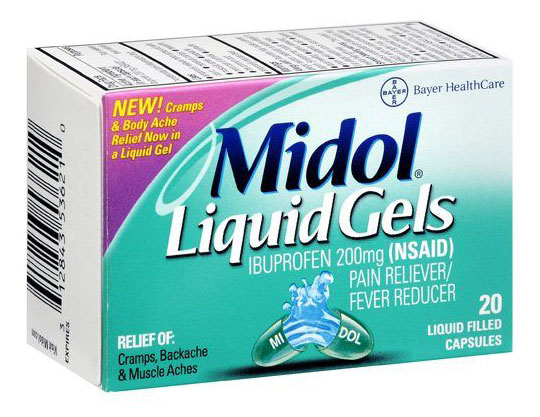 Midol Liquid Gels, contain Ibuprofen 200 mg.
What is the Cost of Motrin?
Generic ibuprofen and branded form such as Motrin is generally available as ibuprofen 200 mg, 400 mg, 600 mg and 800 mg tablets. Motrin is well absorbed and peak levels in the serum are usually achieved within two hours. The serum half life of ibuprofen is typically under two hours and ibuprofen is primarily eliminated via the urine within 24 hours. Generic ibuprofen is relatively inexpensive when compared to other types of medications, costing under $30 for thirty tablets of ibuprofen 600 mg at many pharmacies in the United States.
Using Motrin to Relieve Painful Menstrual Cramps
If you deal with painful periods, during that time of the month, rest assured you're not alone. Also called Dysmenorrhea, Period cramps affect more than half of women on their periods for 1-2 days a month, and sometimes longer. Period pain ranges from dull to severe and is typically concentrated in the lower abdomen and lower back. Painful period cramps, also called primary dysmenorrhea, happens when natural chemicals called prostaglandins rise and cause the lining of the uterus to contract, leading to pain. Secondary dysmenorrhea is period pain resulting from a condition or disease in the reproductive organs. Period pains can range from mild to severe, but they don't need to impede your lifestyle. Try an OTC Pain Reliever - Motrin, works to reduce the production of prostaglandins. This can help temporarily relieve minor aches and pains due to menstrual cramps. Be sure to always read and follow the product label of the OTC pain reliever and talk to your doctor if you have any questions or concerns.
Motrin Possible Side Effects
Many people using this medication do not have serious side effects. Upset stomach, nausea, vomiting, headache, diarrhea, constipation, dizziness, or drowsiness may occur. If any of these effects persist or worsen, tell your doctor or pharmacist promptly. This medication may raise your blood pressure. Check your blood pressure regularly and tell your doctor if the results are high.
Tell your doctor right away if you have any serious side effects, including: easy bruising, hearing changes (such as ringing in the ears), mental changes, unexplained stiff neck, signs of kidney problems (such as change in the amount of urine), vision changes, symptoms of heart failure (such as swelling ankles, unusual tiredness, unusual weight gain).
This drug may rarely cause serious (possibly fatal) liver disease. Get medical help right away if you have any symptoms of liver damage, including: dark urine, persistent loss of appetite, stomach pain, yellowing eyes or skin.
A very serious allergic reaction to this drug is rare. However, get medical help right away if you notice any symptoms of a serious allergic reaction, including: rash, itching or swelling (especially of the face, tongue, throat), severe dizziness, trouble breathing.
How should I store Motrin safely?
Kids are curious, and storing medications in your home can be a challenge. Protect your little explorer from the dangers of finding and ingesting medicine with these safety tips. We are committed to increasing the safe use of medicines around children, and bring you these important safety tips.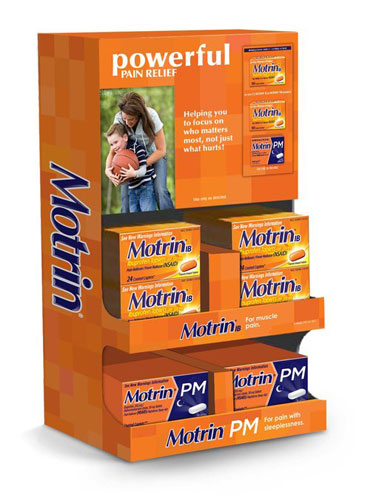 Store Motrin at room temperature away from light and moisture. Do not store in the bathroom. Keep all medications away from children and pets. Do not flush medications down the toilet or pour them into a drain unless instructed to do so. Properly discard Motrin when it is expired or no longer needed. Consult your pharmacist or local waste disposal company.