Ponstel (Mefenamic acid)
Ponstel is a brand name generic of mephenamic acid, which is a form of non-steroidal anti-inflammatory drug or NSAID. NSAIDs are used to relieve mild to moderate pain and inflammation caused by injury or disease. It can also be used to treat blood loss and discomfort during the menstrual cycle, and for headaches, especially those caused by cranial blood vessel disease, such as migraine. It is prescribed in tablets, which are usually taken four times a day.
Mefenamic acid was approved in the United States of America in 1967 as Ponstel, in the UK in 1963 as Ponstan, in West Germany in 1964 as Ponalar and in France as Ponstyl. The Ponstel brand name has been discontinued in the U.S. Generic versions of this product have been approved by the FDA, and are available worldwide under many brand names.
Not everyone should take Ponstel. In rare cases, it may increase your risk of heart attack or stroke. This risk may be higher if you already have heart disease or if you have been using Ponstel for a long time. You should not take Ponstel or other NSAIDs immediately before or after bypass surgery. You should tell your doctor if you smoke, have high blood pressure, heart or blood vessel disease, stomach or intestinal ulcers, liver or kidney problems, if you are pregnant, or if you have blood clotting. In these cases, your doctor may prescribe something else or adjust the dosage of Ponstel.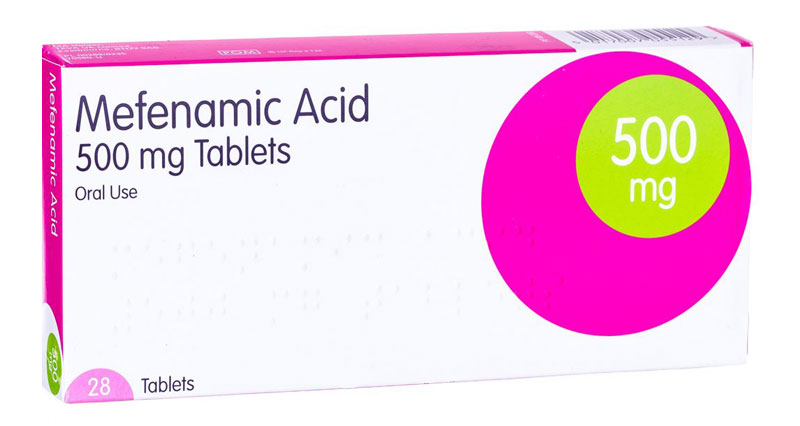 Ponstel is indicated for mild to moderate pain relief in patients over 14 years of age when the duration of therapy does not exceed one week (7 days); Also Ponstel is indicated for treatment of primary dysmenorrhea. Before deciding to use mephenamic acid, carefully consider the potential benefits and risks of mephenamic acid and other treatment options. Use the lowest effective dose for the shortest duration according to the patient's individual treatment goals. Ponstel is not recommended for use in children under fourteen years of age. Animal tests have not shown any adverse effects on pregnant mothers or their fetuses, but conclusive human tests have not been done, so you should still be very careful if you are pregnant or planning to become pregnant. Ponstel is transmitted with breast milk and may have adverse effects on your breastfed baby, so you should discuss with your doctor whether you should stop breastfeeding or take Ponstel.
Elderly patients are at greater risk of serious cardiovascular, gastrointestinal, and renal adverse reactions associated with taking NSAIDs compared with younger patients. If the expected benefit to the elderly patient exceeds these potential risks, start dosing at the lower end of the dosing range and monitor patients for side effects. Clinical studies of mefenamic acid have not included enough subjects aged 65 and older to determine if they differ from younger subjects. As with any NSAID, caution should be exercised when treating the elderly (65 years and older). This drug is known to be largely excreted by the kidneys, and the risk of toxic reactions to this drug may be higher in patients with impaired renal function. Since elderly patients are more likely to have decreased renal function, caution should be exercised when choosing a dose, and it may be useful to monitor renal function.
What kind of pain Ponstel treat?
Mephenamic acid works by blocking the action of natural chemicals called cyclooxygenase (COX) enzymes. These enzymes help produce other chemicals in the body called prostaglandins. Some prostaglandins are produced at sites of injury or damage and cause pain and inflammation. By blocking the action of COX enzymes, fewer prostaglandins are produced, which reduces pain and inflammation.
What Conditions does Ponstel Treat?
pain with menstruation
headache caused by disorder of cranial blood vessels
a type of joint disorder due to excess uric acid in the blood called gout
joint inflammatory disease in children and young adults
non-radiographic axial spondyloarthritis

Prescription NSAIDs available to treat menstrual cramps contain mephenamic acid (Ponstel). Menstrual cramps, also called dysmenorrhea are debilitating, cramping, or throbbing sensations that occur before and during the menstrual cycle. The severity can range from moderate to excruciating and include lower abdominal cramps, painful malaise, or severe pain that comes and goes like labor pains. Menstrual cramps may be accompanied by diarrhea, vomiting and nausea. Treatment options vary, and each woman must find the treatment that works best for her. NSAIDs are more effective than aspirin in preventing the formation and activity of these prostaglandins. For optimal control of menstrual cramps, a girl should begin taking NSAIDs until her pain becomes difficult to control. This may mean starting the medication 1-2 days before the expected onset of menstruation and continuing the medication 1-2 weeks before menstruation begins. You get the best results if you choose one of these NSAIDs regularly rather than as needed.
Ponstel Special Precautions
Ponstel, like other NSAIDs, can cause serious cardiovascular side effects such as myocardial infarction or stroke, which can lead to hospitalization and even death. Although serious cardiovascular disease can occur without warning symptoms, patients should be alert for signs and symptoms of chest pain, shortness of breath, weakness, and slurred speech and should seek medical attention if they see any tentative signs or symptoms. Patients should be informed of the importance of this observation.
Ponstel, like other NSAIDs, can cause gastrointestinal discomfort and, in rare cases, serious gastrointestinal side effects such as ulcers and bleeding that can lead to hospitalization and even death. Although serious gastrointestinal ulcers and bleeding can occur without warning symptoms, patients should be alert for signs and symptoms of ulcers and bleeding and should seek medical attention when observing any indicative signs or symptoms.
Ponstel, like other NSAIDs, can cause serious skin side effects such as exfoliative dermatitis, SJS, and TEN, which can lead to hospitalization and even death. Although serious skin reactions may occur without warning, patients should be alert to signs and symptoms of skin rashes and blisters, fever, or other signs of hypersensitivity such as itching, and should seek medical attention when observing any tentative signs or symptoms. Patients should be advised to discontinue the drug immediately if any type of rash occurs and seek medical attention as soon as possible.
Patients should report signs or symptoms of unexplained weight gain or edema to their physicians immediately.
Patients should be informed of the warning signs and symptoms of hepatotoxicity (e.g., nausea, fatigue, lethargy, itching, jaundice, right-subcutter soreness, and flu symptoms). In this case, patients should be instructed to discontinue therapy and seek immediate medical attention.
Patients should be informed of signs of anaphylactoid reaction (e.g., difficulty breathing, swelling of the face or throat). In this case, patients should be instructed to seek immediate emergency care.
In late pregnancy, as with other NSAIDs, the use of Ponstel should be avoided because it will cause premature closure of the arterial ductus.
Ponstel Forms and Doses
Available forms:
Ponstel (mefenamic acid) is available as 250 mg blue-banded, ivory capsules, imprinted with "FHPC 400" and "PONSTEL® (mefenamic acid)".
The dose of Ponstel will vary from patient to patient. Follow your doctor's instructions or the directions on the label. The following information only includes the average dose of this medicine. If your dose is different, do not change it unless your doctor tells you to. The amount of medicine you take depends on its strength. Also, the number of doses you take each day, the time between doses, and the length of time you take the medicine depend on the medical problem for which you are taking the medicine.
For acute pain relief in adults and adolescents as young as 14 years of age, the recommended dose is 500 mg as an initial dose and then 250 mg every 6 hours as needed, usually for no more than one week.

For treatment of primary dysmenorrhea, the recommended dose is 500 mg as an initial dose and then 250 mg every 6 hours orally, beginning with the onset of bleeding and associated symptoms. Clinical studies show that effective treatment can be initiated with the onset of menstruation and does not require more than 2-3 days.
Common side effects
In patients taking Ponstel, the most common side effects, occurring in approximately 1-10% of patients, are:
Gastrointestinal experiences, including abdominal pain, constipation, diarrhea, dyspepsia, flatulence, heavy bleeding, heartburn, nausea, gastrointestinal ulcers, vomiting, impaired kidney function, anemia, dizziness, swelling, elevated liver enzymes, headache. increased bleeding time, skin itching, rash, tinnitus.
Additional adverse experiences occasionally reported and listed here by body system include:
The body as a whole - fever, infection, sepsis.
Cardiovascular system - congestive heart failure, arterial hypertension, tachycardia, syncope.
Digestive system - dry mouth, esophagitis, stomach ulcer, gastritis, gastrointestinal bleeding, glossitis, hepatitis, jaundice.
Nervous system - anxiety, asthenia, confusion, depression, sleep disturbances, drowsiness; insomnia, malaise, nervousness, drowsiness, tremors, dizziness.
Respiratory system - asthma, shortness of breath.
Skin and appendages - alopecia, photosensitivity, skin itching, sweating.

Get emergency medical help if you have signs of an allergic reaction (sneezing, runny or stuffy nose, hives, wheezing or difficulty breathing, swelling of the face or throat) or a severe skin reaction (fever, sore throat, burning eyes, skin pain. Red or purple skin rash with blistering and peeling).
Get emergency medical help if you have signs of a heart attack or stroke: chest pain extending to your jaw or shoulder, sudden numbness or weakness on one side of your body, slurred speech, shortness of breath.
Benefits
The Ponstel 250mg is a common painkiller used to treat aches and pains. It blocks the chemical messengers in the brain that tell us we are in pain. It is effective in relieving pain caused by headaches, migraines, nerve pain, toothache, sore throat, menstrual pain, arthritis, and muscle pain. Take it as prescribed to get the maximum benefit. Do not take more or longer than necessary, as it can be dangerous. As a general rule, you should take the lowest of the effective doses for as short a time as possible.
Where to buy Ponstel?
Are you paying too much for Ponstel? Save up to 70% when purchasing your prescription drugs from online pharmacies. Some online pharmacies offer access to prescriptions for Ponstel online, without in-person trips to the doctor's office or copays. When you start your online medical visit through their platform, you will answer questions and consult with a medical professional, who will evaluate you and prescribe the right dosage if they determine Ponstel is right for you. If prescribed, genuine, FDA-approved generic Ponstel (Mefenamic acid) from a licensed pharmacy will be shipped discreetly to your door. Why is this important? Because Ponstel is not available over the counter in the US and must be prescribed by a licensed medical provider. Fraudulent online pharmacies may attempt to sell an illegal generic version of Ponstel. These medications may be counterfeit and potentially unsafe. If you purchase medications online, be sure you are buying from a reputable and valid online pharmacy. Ask your health care provider for advice if you are unsure about the online purchase of any medication.