Buy Toradol Online

Buy Toradol (Ketorolac)
Toradol General Product Information
Toradol is a nonsteroidal anti-inflammatory drug, available in both oral and parenteral forms, that possesses significant analgesic potency. Its analgesic efficacy has been studied extensively for the treatment of moderate-to-severe pain in many clinical settings. Although Toradol possesses significant analgesic potency, it has limited utility as an analgesic for the acute treatment of moderate-to-severe pain in the emergency department. It has analgesic potency but its utility in patients with moderate-to-severe pain is also limited because there is a significant percentage of patients who fail to obtain adequate relief.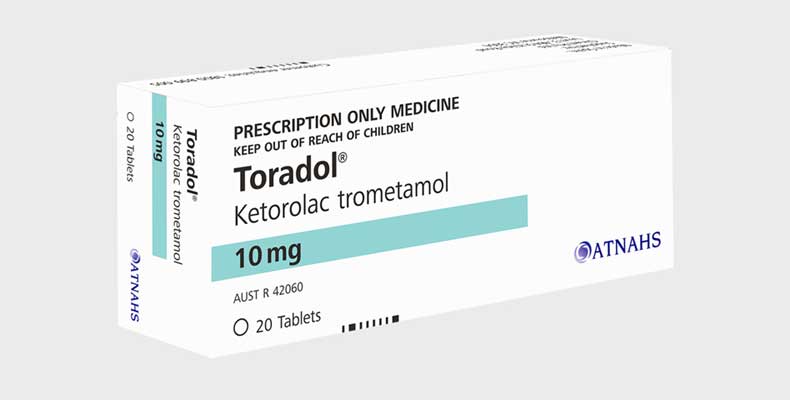 Toradol is used to relieve moderately severe pain, usually after surgery. Toradol is in a class of medications called NSAIDs. It works by stopping the body's production of a substance that causes pain, fever, and inflammation. Toradol is indicated for the short-term management of moderately severe, acute pain following surgical procedures. The total duration of ketorolac use should not exceed five days. It is recommended that ketorolac parenteral be used in the immediate post-operative period. Patients can then be converted to the oral formulation (dependent on their analgesic needs). The total period of treatment utilising the oral and/or intramuscular route of administration is not to exceed five days. Toradol is not recommended for use as an obstetrical pre-operative medication or for obstetrical analgesia because it has not been adequately studied for use in these circumstances and because the known effects of drugs that inhibit prostaglandin biosynthesis on uterine contraction and foetal circulation. There is no satisfactory evidence for the use of Toradol in acute exacerbations of chronic painful inflammatory conditions (e.g. rheumatoid or osteoarthritis).
Toradol Direction For Use
Toradol (Ketorolac) comes as a tablet to take by mouth. It is usually taken every 4 to 6 hours on a schedule or as needed for pain. If you are taking ketorolac on a schedule, take it at around the same times every day. Follow the directions on your prescription label carefully, and ask your doctor or pharmacist to explain any part you do not understand.
The Toradol tablet should be taken with a full glass of water. Toradol is normally given for 5 days or less, including both the injection and oral forms combined. Long-term use of Toradol can damage your kidneys or cause bleeding. If you need to have any type of surgery, tell the surgeon ahead of time if you have recently used Toradol.
Do not use any other pain medication without first asking your doctor or pharmacist. Many medicines available over the counter contain aspirin or other medicines similar to Toradol. If you take certain products together you may accidentally take too much of this type of medication. Do not drink alcohol while taking Toradol.
Toradol Special Precautions
Do not take toradol if you are taking probenecid.
Tell your doctor and pharmacist what prescription and nonprescription medications, vitamins, nutritional supplements, and herbal products you are taking or plan to take. Be sure to mention the medications listed in the important warning section and any of the following: antidepressants; medications for anxiety or mental illness; medications for seizures such as carbamazepine (tegretol) or phenytoin (dilantin); methotrexate (rheumatrex); sedatives; sleeping pills; and tranquilizers. Your doctor may need to change the doses of your medications or monitor you more carefully for side effects.
Tell your doctor if you have or have ever had the conditions mentioned in the important warning section or swelling of the hands, feet, ankles, or lower legs.
Tell your doctor if you are pregnant, especially if you are in the last few months of your pregnancy, or you plan to become pregnant. If you become pregnant while taking toradol, call your doctor.
Talk to your doctor about the risks and benefits of taking toradol if you are 65 years of age or older. Older adults should not usually take toradol because it is not as safe as other medications that can be used to treat the same condition.
You should know that this medication may make you drowsy or dizzy. Do not drive a car or operate machinery until you know how this medication affects you.
Talk to your doctor about the safe use of alcohol while taking this medication. Alcohol can make the side effects of toradol worse.
Toradol Common Use
The combined duration of use of parenteral, oral, and intranasal Toradol should not exceed 5 days. For the short-term management of moderately severe acute pain that requires analgesia at the opioid level, usually in a postoperative setting. Oral, as continuation to parenteral therapy:
Weight 50 kg or more: 20 mg orally once followed by 10 mg every 4 to 6 hours as needed.
Weight less than 50 kg: 10 mg orally once followed by 10 mg every 4 to 6 hours as needed.
Maximum dose: 40 mg/day.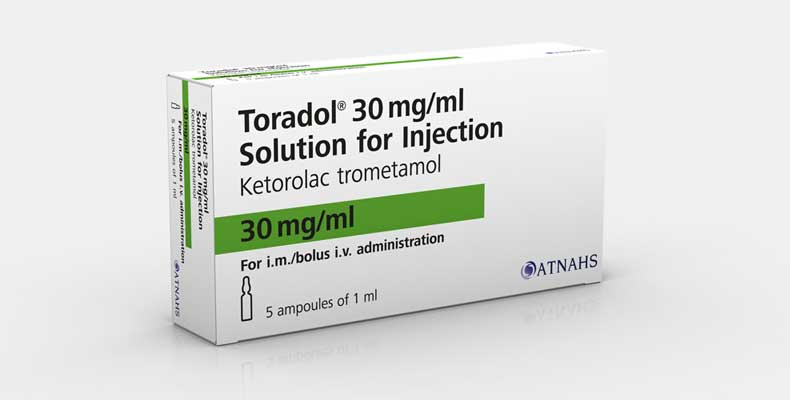 Do not increase the dose or frequency for breakthrough pain; consider supplementing with low dose opioids as needed, if appropriate. Use minimum effective dose, and switch to alternative analgesics as soon as possible.
Toradol Possible Side Effects
Toradol may cause side effects. Tell your doctor if any of these symptoms are severe or do not go away:
headache
dizziness
drowsiness
diarrhea
constipation
gas
sores in the mouth
sweating
Some side effects can be serious. If you experience any of the following symptoms, or those mentioned in the important warning section, call your doctor immediately. Do not take any more Toradol until you speak to your doctor.
fever
blisters
yellowing of the skin or eyes
excessive tiredness
unusual bleeding or bruising
lack of energy
nausea
loss of appetite
pain in the upper right part of the stomach
flu-like symptoms
pale skin
fast heartbeat
cloudy, discolored, or bloody urine
back pain
difficult or painful urination
Toradol may cause other side effects. Call your doctor if you have any unusual problems while taking this medication. Symptoms of Toradol overdose may include the following: nausea, vomiting, stomach pain, bloody, black, or tarry stools, vomit that is bloody or looks like coffee grounds, drowsiness, slowed breathing or fast, shallow breathing.
Contraindications
Toradol is contraindicated in patients:
- with severe heart failure.
- undergoing treatment of perioperative pain in setting of coronary artery surgery.
- with dehydration or hypovolaemia from any other cause.
- with severe hepatic impairment
- with moderate or severe renal impairment, or in patients at risk of renal failure due to volume depletion or dehydration.
- with active, or a history of gastrointestinal bleeding or perforation, related to previous NSAIDs therapy. Active, or history of recurrent peptic ulcer/haemorrhage.
- with a history of haemorrhagic diatheses, including coagulation disorders.
Interactions With Other Medicines
Enzyme Induction / Inhibition
There is no evidence in animal or human studies that Toradol induces or inhibits the hepatic enzymes capable of metabolising itself or other medicines. Hence, Toradol would not be expected to alter the pharmacokinetics of other medicines due to enzyme induction or inhibition mechanisms.
Warfarin
The concurrent use of NSAIDs and warfarin has been associated with severe, sometimes fatal, haemorrhage. The exact mechanism of the interaction between NSAIDs and warfarin is unknown, but may involve enhanced bleeding from NSAID-induced gastrointestinal ulceration, or an additive effect of anticoagulation by warfarin and inhibition of platelet function by NSAIDs. Toradol should be used in combination with warfarin only if absolutely necessary, and patients taking this combination of medicines should be closely monitored.
Anticoagulant Therapy and Other Drugs Affecting Haemostasis
NSAIDs may enhance the effects of anti-coagulants, such as warfarin, low-molecular weight heparin and dextrans. Unlike the prolonged effects from aspirin, platelet function returns to normal within 24 – 48 hours after Toradol is discontinued.
Aspirin and Other NSAIDs
In patients concurrently receiving aspirin or other NSAIDs, the risk of inducing serious NSAID-related adverse effects may be increased.
Oxpentifylline
When Toradol is administered concurrently with oxpentifylline, there is an increased tendency to bleeding.
Probenecid
Concomitant administration of oral Toradol and probenecid resulted in decreased clearance of ketorolac and significant increases in ketorolac plasma levels and terminal half-life increased approximately 2-fold from 6.6 to 15.1 hours. Therefore the concomitant use of Toradol and probenecid is contraindicated.
Lithium
Inhibition of renal lithium clearance, leading to an increase in plasma lithium concentration, has been reported with some prostaglandin synthesis-inhibiting medicines. The effect of Toradol on plasma lithium has not been studied, but cases of increased plasma levels during Toradol therapy have been reported.
Methotrexate
Concomitant administration of methotrexate and some NSAIDs has been reported to reduce the clearance of methotrexate, enhancing the toxicity of methotrexate. The effect of Toradol on methotrexate clearance has not been studied.
ACE-Inhibitors
As with other NSAIDs, ketorolac may increase the risk of renal impairment associated with the use of ACE-inhibitors, particularly in patients that are actually or effectively volume depleted.
Combination use of ACE inhibitors or angiotensin receptor antagonists, anti-inflammatory medicines and thiazide diuretics (Triple Whammy)
The use of an ACE inhibiting medicine (ACE-inhibitor or angiotensin receptor antagonist), an anti-inflammatory medicine (NSAID or COX-2 inhibitor) and a thiazide diuretic at the same time (Triple Whammy) increases the risk of renal impairment. This includes use in fixed-combination products containing more than one class of medicine. Combined use of these medications should be accompanied by increased monitoring of serum creatinine, particularly during initiation of the combination. The combination of medicines from these three classes should be used with caution particularly in elderly patients or those with pre-existing renal impairment.
Diuretics
Toradol reduces the diuretic response to frusemide in normovolaemic healthy subjects by approximately 20%.
Nephrotoxic Agents
The use of medicines with nephrotoxic activity (e.g. aminoglycoside antibiotics) should be avoided when using Toradol.
Selective Serotonin Reuptake Inhibitors (SSRIs)
There is an increased risk of gastrointestinal bleeding when anti-platelet agents and SSRIs are combined with NSAIDs.
Antiepileptic Medicines
Sporadic cases of seizures have been reported during concomitant use of Toradol and antiepileptic medicines (phenytoin, carbamazepine).
Psychoactive Medicines
Hallucinations have been reported when Toradol was used in patients taking psychoactive medicines (fluoxetine, thiothixene, alprazolam).
Overdosage Symptoms and Signs
Single overdoses of Toradol have been variously associated with abdominal pain, nausea, vomiting, hyperventilation, peptic ulcers and/or erosive gastritis and renal dysfunction which have resolved after discontinuation of dosing. Gastrointestinal bleeding may occur. Hypertension, acute renal failure, respiratory depression and coma may occur after the ingestion of NSAIDs but are rare. Anaphylactoid reactions have been reported with therapeutic ingestion of NSAIDs and may occur following an overdose. Patients should be managed by symptomatic and supportive care following NSAID overdose. There are no specific antidotes. Dialysis does not significantly clear ketorolac from the blood stream. Contact the Poisons Information Centre for advice on management of overdosage.
Can I Buy Toradol Without Prescription?
Toradol have principally analgesic, antipyretic, and anti-inflammatory actions. Toradol do not bind to opioid receptors and not classified under the Controlled Substances.