Systemic Corticosteroids Ineffective for Low Back Pain
Low back pain is a frequent reason for outpatient and emergency room visits among adults. It also can impair quality of life and the ability to perform activities of daily living and work. In most cases, low back pain is not attributed to a specific condition, which is known as "non-specific" low back pain. Less commonly, certain conditions (such as metastatic cancer or infection) can cause low back pain.
Low back pain often is classified as radicular or nonradicular. Radicular low back pain is accompanied by pain or numbness that radiates down one or both legs and is commonly caused by a herniated disc compressing a nerve as it exits from the spinal column. In contrast, nonradicular low back pain does not involve any radiating symptoms. Additionally, low back pain often is classified according to its duration into three types: acute (lasting for less than four weeks), subacute (lasting from four to 12 weeks) and chronic (lasting longer than 12 weeks).
Patients may resort to systemic medications, which are taken orally or by injection into a muscle or vein, to treat nonspecific low back pain. Corticosteroids — including dexamethasone (generic only), hydrocortisone (CORTEF, SOLU-CORTEF), methylprednisolone (A-METHAPRED, DEPO-MEDROL, MEDROL, SOLU-MEDROL) and prednisone (RAYOS) — are one type of systemic medication sometimes prescribed by doctors to patients for this purpose. However, evidence now clearly shows that, in addition to their numerous adverse effects, systemic corticosteroids are not effective for relieving any type of low back pain.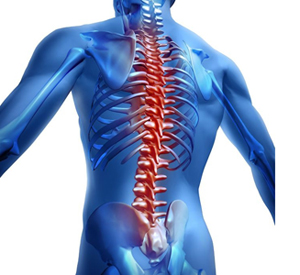 A federally funded systematic review, published in the Annals of Internal Medicine, examined the evidence regarding use of systemic medications, including corticosteroids, in the treatment of low back pain. The results of this review were used by the American College of Physicians (ACP) to update the organization's clinical practice guidelines for treating low back pain. The review analyzed 10 randomized, controlled trials that compared use of systemic corticosteroids with placebos in subjects with any type of low back pain. Six of these trials found no differences between systemic corticosteroids and placebos in improving pain in subjects with radicular low back pain of varying duration. One of these six trials found a small benefit of systemic corticosteroids compared with a placebo in terms of improved physical function, but three other trials found no such effect. Two of these six trials also found no effect of systemic corticosteroids on the likelihood of patients undergoing spine surgery. Two trials found no differences between a single intramuscular injection of a corticosteroid or a five-day course of an oral corticosteroid and placebos for pain or physical function in patients with acute nonradicular low back pain. In addition, one trial found no differences between a three-week course of systemic corticosteroids and a placebo in terms of pain intensity, disability or quality-of-life measures among subjects with low back pain due to spinal stenosis (narrowing of the spinal canal).
Serious harms were not reported in any of these trials. However, certain adverse events were reported in some trials. For example, the largest trial, which tested oral prednisone for radicular back pain, showed that nearly half of the subjects who received the oral corticosteroid experienced an adverse effect compared with only about a quarter of those who received a placebo. The most frequently reported adverse effects among corticosteroid users in this trial were insomnia, nervousness and increased appetite. Another small trial showed that subjects receiving intramuscular corticosteroids were more likely to have adverse effects than those receiving a placebo (32 percent versus 5 percent, respectively).
Other research has shown that the most common adverse effects of corticosteroids include adrenal suppression, high blood pressure, swelling, decreased bone density (increasing the risk of fractures), eye disorders (such as cataracts and glaucoma), heart disease, increased blood sugar levels (diabetes), infection, muscle breakdown, psychiatric effects (such as agitation, anxiety, depression, insomnia, mania and suicidal thoughts), slowed wound healing, skin fragility, ulcer in the stomach or duodenum, and weight gain. Based on the evidence from the systematic review, the ACP's clinical practice guidelines for treating patients with low back pain do not recommend using systemic corticosteroids because these medications are neither effective nor safe for this use.
If you experience low back pain, you should remain physically active, exercise and avoid prolonged periods of inactivity as much as possible. If bed rest is required to relieve severe symptoms, resume normal activity as soon as possible. Apply heat over the site of pain using heating pads or heated blankets to reduce muscle spasm. If the pain is severe, consider shortterm use of acetaminophen (TYLENOL) or a nonsteroidal anti-inflammatory drug (NSAID). Ibuprofen (ADVIL, IBU-TAB, MOTRIN IB, PROFEN) and naproxen (ALEVE, ANAPROX DS, NAPRELAN, NAPROSYN) are considered first-choice NSAIDs because they are least likely to cause cardiovascular adverse effects. Always use the lowest effective dose of pain medications for the shortest possible duration. Do not use oral diclofenac (see article here), muscle relaxants or opioids for low back pain.